Home And Garden Tips

_____________________________________________________________________________________________________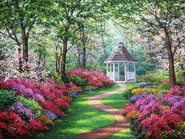 Hi guys,
In this post I will share with you some tips that can be very useful for anyone who want to make his own beautiful garden easily.
Firstly, you should enjoy planting your own garden but definitely not find it stressful. That is why we will be looking at some tips to make things much easier for you and eliminate as much stress as possible from what should be a really enjoyable pastime.
The basic necessity of air for plants is often forgotten when looking at what plants really need. There's lots of air in the atmosphere anyway so we don't need to care about this, right? Well, not exactly.